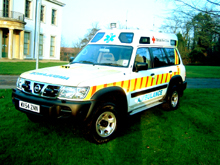 from
@ £279.99
per week equivalent plus Vat
The addition of a Nissan Patrol to your fleet will enable you to benefit from a fully equipped, emergency 4x4 ambulance with the ability to cope with adverse weather conditions and any emergency that may be thrown in its direction.
The Nissan Patrol is one of the first of its kind to carry the European Standard Colour of Euro Yellow. Euro Yellow is being introduced throughout Europe to make all emergency vehicles instantly recognisable. The Patrol is a fully equipped 4x4 ambulance with the capacity to carry stretchers and thanks to the high roof, it gives the crews an enhanced working area.
Carrying the same equipment as a frontline ambulance the Patrol is fully equipped with satellite navigation, which linked directly to the radio communication and data keypad ensures directions are available to the crew as soon as emergency calls are taken, saving precious seconds.
For a detailed specification about the Nissan Patrol 4X4 Ambulance [ click here ]
We Offer
If you would like us to contact you regarding the vehicle listed above or indeed any other Ambulance, then please complete an enquiry form or ring our offices on 01508 486054. We will be very pleased to help you.