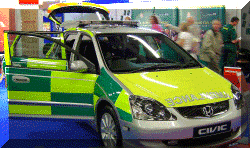 If you are looking for a rapid response car, then we can offer a wide range of choices. With such a large choice of vehicles available, you can be sure to get the right vehicle for the job. Incorporating Blue Lights / Sirens, Battenberg Livery, Additional Power Points, Small fridge for Organ Transport. etc.

Additionally, we can provide Rapid / First Response Motorcycle. Providing Medical Equipment storage, Lights, Livery and Power points.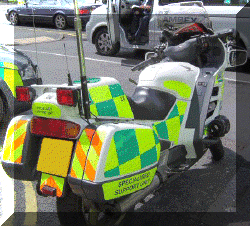 Honda First Response Motorcycle
To make an enquiry about this style of vehicle, click the link below.
We Offer
If you would like us to contact you regarding the vehicle listed above or indeed any other Ambulance, then please complete an enquiry form or ring our offices on 01508 486054. We will be very pleased to help you.