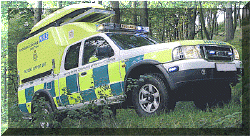 We have based this Conversion on the ever popular Ford Ranger Pickup truck. The benefits to your business are cost effective off roader as well as versatility for any incident. The body is demountable allowing you to leave the equipment on site. Specialised shelving and access to accommodate all of your equipment, this conversion offers full livery, blue lights and sirens.
Can be used as an event vehicle for any Horse Racing, Motorcycling, Beach Patrols & Mountain Rescue.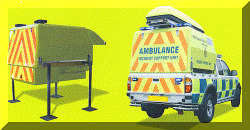 Own this vehicle from @ £149.99 + VAT per week equivalent (the vehicle will then belong to you at the end of the termed contract)
DETAILED SPECIFICATIONS
Chassis (FREE ISSUE)
Demountable Pod
GRP Pod Housing

Steel Legs

Super Tough Locking Rear Door

Optional Side Opening Doors

Double Skinned roof
Interior Kit Options
Millennia Backboard

Universal Head Immobiliser

Basket Stretcher Split

Vacuum Splint Kit

Wizlock Collars

Ambulance Burn Kit

Portable Resus Kit

Cutter

Combi Tool

Waterjel Ambulance Burn Kit

Disposable Foil Blankets

Triage Priority Tape

Disaster Pouch

Pre & Post Decon Kit

Decon Compact Carry chair

Model 11 Decon Stretcher

First Responder Kit

Management System

Portable Gas Detector

Portable Lighting

Adastra Megaphone

Duo Fold Emergency Stretcher

Microflex Supremo Gloves
Electrical
Interior Lighting

2 ancillary plug points.

Strobe lightbar on roof with centre sign.

Rear GRP pod housing flood loading light, rear reds and stop/tail/indicator lights.

Electronic siren.

Scene light each side forward and rear.

Rear marker lights.
Exterior
White or Yellow with markings to requirements.

Livery to your requirements
Delivery Approximately 4 working weeks from receipt of order and base vehicle supply
Finance available H.P / Leasing / Contract Hire
Lease from @ £139.99 + VAT per week equivalent

Click here to make an enquiry
Choice of
We can provide this conversion on Mitsubishi L200, Toyota Hilux, Nissan Navara
___________________________________________